There are a lot of things I love about running. More than I could count. But there are some things that I hate... You've probably got them, too. Things that suck but we overlook them and run anyway. Since it's Monday and my bright-and-shiny attitude walked out on me sometime in the middle of the night, I'm gonna linger in my misery by listing off what I like least. Here are my top 5, in no particular order:
The smell of my 5-6 year old armband
. My other things smell, too. Like, for example, I don't allow my shoes near small children for fear of a lawsuit. But they're only around for ~500 miles so it doesn't get
that
bad. And we all smell after a run. Whatevs. No biggie.
But my God! I've had an armband since I was in the Peace Corps so it's 5-6 years old at this point. On more than one occasion I've had people ask "what the
h*ll
is that smell!?!" when stopping for water. (You know, when you can't rely on movement to keep the smell behind you?) Yeah. Um. Sorry. Even
I
think it stinks.
Carrying water on long runs
. Yeah, I do it. But I don't like it. I get a little spoiled because Audubon Park has water fountains every 0.5-1 mile. So I may have to run loops (which aren't so bad with company) but at least I don't have to carry my own water. Yet there's always times when I gotta log the miles alone at which point I usually do an out-and-back. (Loops are too mentally exhausting alone. Everytime I'm back at the start I think, "Do I
really
have to run that again?") Out-and-backs mean I get to strap on a camelbak or carry a water bottle. Ugh.
Even worse is when the water fountains aren't working. New Orleans
sometimes
usually functions like a developing country, and when things break you can safely assume it'll be months or years until they're fixed. When the good fountain at the park is down for the count (the one that's
always
cold), that's enough to ruin a day.
Gels
. Pick your poison. I've got my "favorites," and by favorites I mean the ones that make me gag the least. My modus operandi is to down them as quickly as possible so I don't have to taste much. (Is it just me or is Gu the consistency of vasoline?) However, when they hand out free ones at races you don't usually have much choice and the race directors seem to provide only the worst flavors. Maybe they get a bulk discount on gels that companies can't otherwise sell. But I'm a grad student so I grab them anyway. If I finish with fewer gels than I started out with: FAIL. Then I get home and have to I muster up some enthusiasm for my plunder. "Mmmm. Gels" (read: sarcasm.) I know there are other kinds of race nutrition (powerbars, jelly beans, shot bloks...) but chewing & running = not breathing. I happen to like breathing. And besides... back off! This is my forum to b*tch. You can talk about why you
love
gels on your own blog.
That's gonna leave a mark.
4.
Chafing
. Although potentially avoidable, a good chafe can still manage to sneak up on you. Perhaps the weather became more humid than you expected. Or, the weather was beautiful and you felt great so you decided to add on a couple miles you hadn't planned. Maybe you simply forgot the body glide. The worst is that you don't always notice the damage while you're running. I like to refer to this phenomenon as the "stealth chafe." It's the moment you get into the shower expecting only that wave of relaxation and then... "Holy Mother!
¡
%*#
¿
&!
"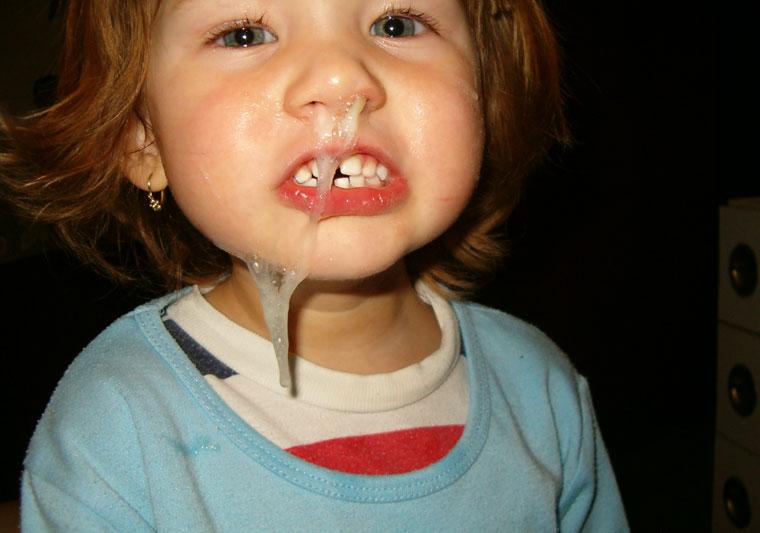 Sorry. I hope you weren't eating.
5.
Snot
. It's not that snot is limited to running. It's that somehow running seems to have a direct relationship to the production of snot. This phenomenon occurs mostly in cold weather, but is not limited to cold weather. In medicine, you're taught to always start with the ABCs: Airway, Breathing & Circulation. Snot = no airways, no breathing. And, unfortunately, I'm not aware of any great solutions to resolve the problem. Using your sleeve or snot rockets can result in collateral damage and/or funny looks at the finish line when someone notices the boogers on your shoulder. "That banana looks delicious! Why are you gagging?"
I made this myself. It's way scientific.
And if you're not already disgusted, I googled snot just to see what solutions the internet can offer and discovered
this gem
:
really
want to put that in my mouth. Maybe we should just teach our kids how to effectively snot rocket. There'd probably be less casualties if we learned the technique from an early age.